Technological line for limestone recycling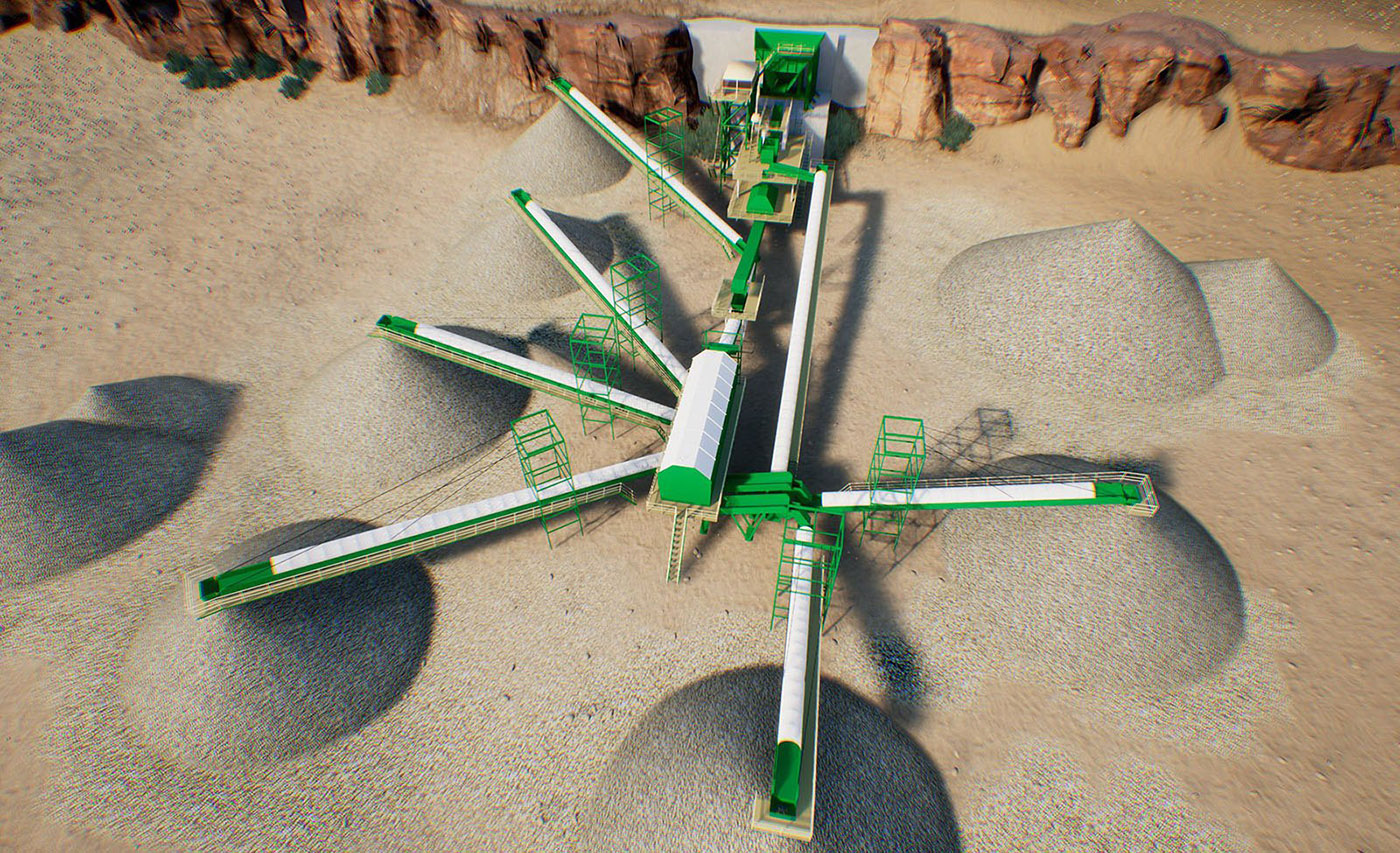 Technological line equipment for limestone recycling, also technological scheme of recycling process, the project of equipment placement and 3D model of the complex were developed by the engineering centre of LLC "Ecotech" in accordance with annual capacity of 2000 thousand tons yearly, with a high level of automation.
Basic technical specifications of the complex.
Initial material for recycling
Limestone with clay content = 30%
Initial fraction
0-1000 mm
Maximum possible fraction
≤ 1300 mm
Moisture
≤12%
Specific weight
2,4 – 2,6 t\m³
Bulk weight (average value):
1,67 t\m³
Strength
≤ 126 MPa
Flakiness
≤ 5%
Capacity of the complex
2000 thousand tons
Equipment consumption efficiency coefficient
0.47
Productivity (required)
900 t/h
Operating parameters of the complex
Open area, t°= -40°C - +40°C
Energy supply
Three-phase, 380 V, 50 Hz
Enriched fraction | categories
State Standard 8267-93
Final product outlet:
- fraction 5-20 mm
- fraction 20-40 mm
- fraction 40-70 mm
- fraction 70-120 mm

11%
14%
16%
12%
Stock volume of final products
≥6000 m³ as a percentage of enriched fractions
List of items included in the complex.
Receiving bunker with support metal constructions.
Plate feeder TyssenKrupp RKF 2,0x10.8.
Heavy roll screen ?1 RS-6.150-12/?2 RS- 4.110-2/?3 RS-4.110-2.
Roll crusher ?1 ThyssenKrupp DRC-800.
Jaw crusher ?2 Sandvik CJ612.
Drum separator DS-2-32.12.400-01.
Hydrohammer RAMMER 222 with manipulator D300C.
Set of belt conveyors.
Conveyor weigher Bergheim CW-T-1000.
Note: instead of DS it is possible to use vibrating screen MEKA ms 2060.