Technological line for RDF-fuel generation with capacity 25 thousand tons yearly with preliminary sorting.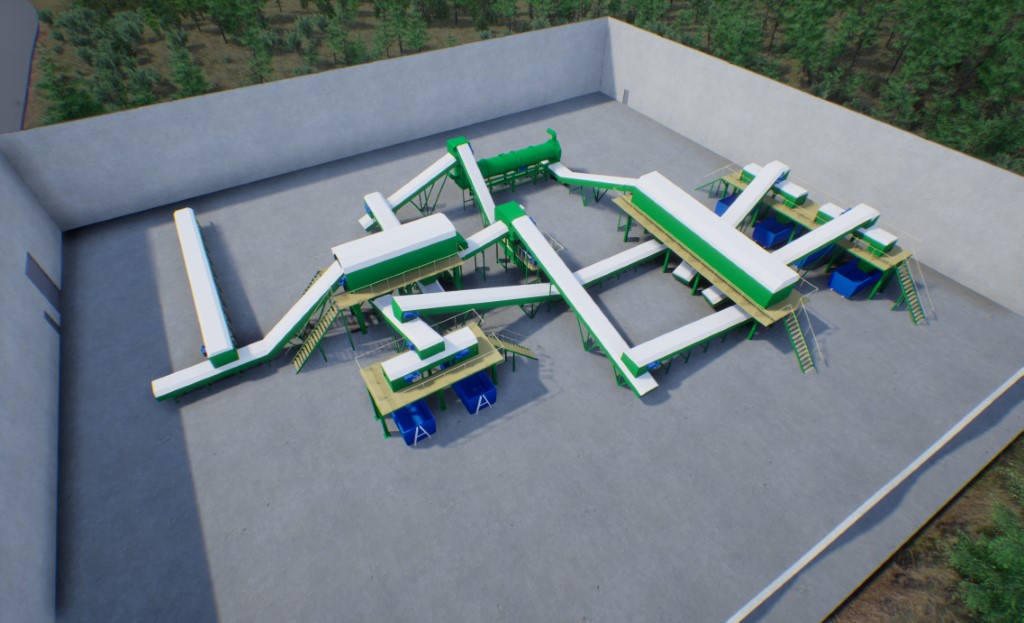 Technological process scheme, line equipment, the project of equipment placement and 3D model of line for RDF-fuel generation with preliminary sorting were developed by the engineering centre of LLC «Ecotech» in accordance with annual capacity of 15 t/h.
Basic technical specifications of the line:
Initial material for recycling - MSW and IW, equal BW.
Initial fraction of MSW and IW - 20-500 mm
Initial fraction of BW – 0-250 mm
Outlet fractions (valuable) – 20-40, 40-80 mm
Moisture of initial fraction – 40-60%
Moisture of outlet fraction (valuable) – 20-35%
Bulk weight - 0.2 t/m³
Capacity - 25 thousand t/year
Productivity (required) 15 t/h
Voltage power - 220/380 V
Power frequency - 50 Hz
List of equipment:
Belt conveyor for MSW-tails feeding.
Belt chain L-type conveyor.
Triple-fractional drum separator.
Set of line belt conveyors.
Shredder (two-roll grinder).
Set of L-type belt conveyors.
Drum dryer for bulk materials.
Gas-generating unit.
Waste gases cleaning system.
Four-fractional drum separator.
Set of reverse conveyors.
Set of multifilters.
Automatic management system.
Operating platforms and supporting metal constructions.
Slides.