Drum separator
(SBT-1-XX.XXX-XX TS 28.99.39-001-24616823-2018)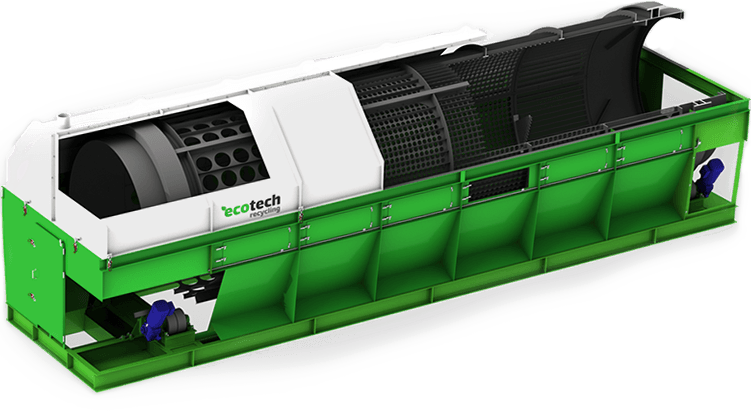 Basic specifications of the separator
Rotation speed of the drum, rpm
4-18
Thickness of the sieves, mm
6, 8, 10, 12
Basic specifications of the working unit (drum)
| | |
| --- | --- |
| Diameter of the drum | 1800-3000 |
| Screening surface length, mm | 4500-12000 |
| Drum length, mm | 5500-14000 |
| Total screening area, m2 | 25-113 |
| Drum angle | 4° |
Advantages
The length of the working unit (drum) allows to sort and to scatter the incoming material in required fractions more effectively.
The angle of inclination of the device allows the sorting material naturally roll down.
Interchangeable sieves allow to readjust the drum in accordance with different fractions.
The separator is completely collapsible, that allows to pack it into 40-feet containers.
Assembly tightness with aspiration system allows to avoid the emission of contaminated air.
Optimized access to maintain the working units during the whole period of exploitation.
The separator is equipped with safety and locking devices, protecting against overloads and exluding incompatible simultaneous movement.
Sound pressure levels do not exceed permitted limits.
Cutting blades for opening of the packages, arranged at an angle of 7°– 12°, contribute to movement of wastes more effectively along the sorting drum and prevent the formation of "sheet curving" effect.
Modern component equipment allows to provide soft start and braking.
Configuration