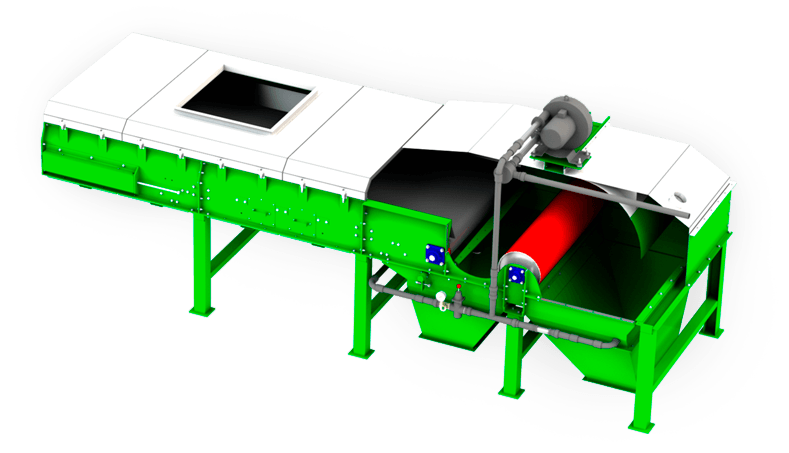 Basic specifications of the separator
Belt conveyor feed rate, m/s
to 5
Operating temperature, °C
from -40 to +50
Separated material - MSW and bulk materials with the specific load to 100 kg/m3. Fractional composition of MSW - to 300 mm.
Automatics and safety system of the conveyor - Schneider Electric GmbH, Germany, JSC SPC "Teko", Russia, JSC "Sensor", Russia, Kiepe Elektrik GmbH, Germany.
Gearmotors - SEW-Eurodrive GmbH, Germany, Bonfiglioli Forever Forward, Italy and NORD Drivesystems GmbH, Germany.
Advantages
Closed-type separation systems exclude the open access to rotating parts and reduce the injury risk.
Modular construction of the flight and other equipment of air separator allows to facilitate the installation of the conveyor significantly and to reduce logistic expences.
Aspiration elements allow to exclude the emission of contaminated air into production facilities.
Adjustable angle of inclination of the air feed unit allows to fine-tune the separation process.
The application of reliable automatics of the safety systems of the equipment.
The application of modern component equipment with a high degree of reliability.
Modern component equipment allows to provide soft start and braking.
Configuration